OUR STORY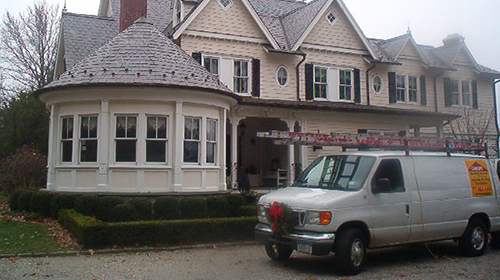 Canopy Roofing Systems was established in 1980 as a full service, specialty roofing contractor serving customers in New York, New Jersey, Connecticut and other locations. Canopy provides residential and commercial roofing, sheet metal and custom architectural installation, roof maintenance programs, engineering, design and consulting services.
Our mission is to provide the highest quality of craftsmanship, material and administrative support to every project we undertake. Customer satisfaction is our number one priority.
Michael K. Meyer, President of the company, is an accepted authority in the roofing industry. He has authored numerous publications and instructed many seminars on roofing design and applications.
Michael serves on The Board of Directors of both The National Roofing Contractors Association and The Northeast Roofing Contractors Association. Canopy Roofing is a proud member of NFIB, NRCA and NERCA, BBB, and The Chamber of Commerce.
---
OUR CODE
Provide the highest quality craftsmanship and materials.
Provide excellent, prompt and courteous service—always with utmost integrity.
Provide excellent customer service to achieve complete customer satisfaction.
Maintain all job sites as clean and neat as possible.
Provide comprehensive safety training to all employees and enforce all safety rules.
Provide a drug and alcohol free workplace.
Compensate all employees fairly, fostering long-term employer-employee relationships.
Provide incentive bonuses to employees for safety, cleanliness and good workmanship.
Participate actively in local, regional and national industry and community affairs.
---
OUR TEAM
MICHAEL K. MEYER
President

BREDDY R. ALFARO
Commercial & Residential
Service and Safety Manager

PENNY BOSMAN
Office Manager

WALTER HOCKING
Commercial Roofing
Manager

THOMAS QUIGLEY
Project Manager

ROSEMARY SMITH
Receptionist

MARY IBELLI
Maintenance

ON THE JOB
Our Professional Crew
---
COMMUNITY ACTIVITIES
Special Kids of New York (Major Sponsor)
Briarcliff High School (Sponsor)
Briarcliff Police Association (Sponsor)
Elmsford School District DARE Program (Sponsor)
Make a Wish Foundation (Sponsor)
N.E. Roofing Educational Foundation (Major Sponsor)
N.E. Roofing Foundation (Trustee)
National Roofing Foundation (Trustee)
New Yorkers for Civil Justice Reform
(Michael has volunteered many hours to lobby for contractors insurance reform.)
---
TRADE ASSOCIATIONS
Builders Institute
National Roofing Contractors Association
National Federation of Independent Businesses
National Chamber of Commerce
Better Business Bureau
Northeast Roofing Contractors Association
New York State Roofing Contractors Association
Michael Meyer serves in the following capacities:
Board of Directors: The National Roofing Contractors Association
Vice President: Northeast Roofing Contractors Association
Trustee: Northeast Roofing Educational Foundation